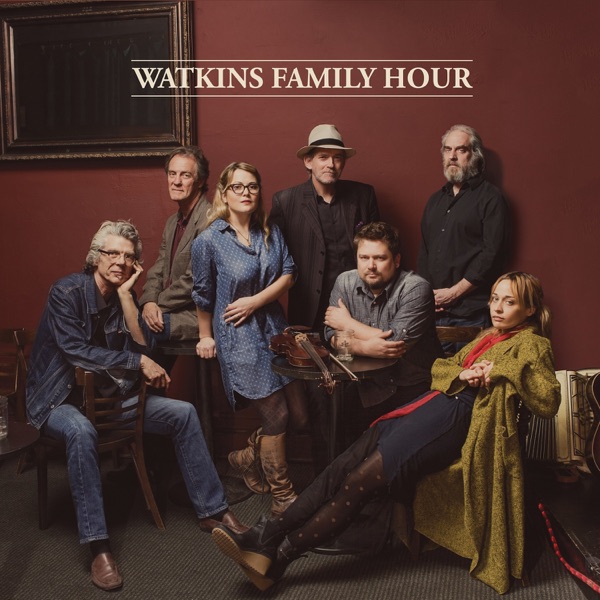 ℗ 2015 Family Hour Records
Watkins Family Hour Tracklist:
I saw WFH do the full Dylan's Highway 61 Revisited at Lincoln Center 2 years ago with assistance by the likes of Amee Mann and others, (how many people does it take to sing a record?). They are a super talented band who covered the material wonderfully. I so enjoyed it. This collection unfortunately comes off as lazy folk and I didn't connect to it. The songwriting is inferior, the arrangements uninspired, as are the performances. Hopefully we'll got some good work again on the level of the aforementioned show from them.
Can Sara & Sean do no wrong? Nice to hear Fiona again after so many years. See them live… simply fantastic! I hope this band puts out another album after this one.
This album is it's own genre. Beautiful, harmonious rhythms that gave me goosebumps the whole way through. Sara Watkins is a wunderkind.
I just bought this album last night and have already listened to it 4 times the whole way through! This incredible band includes Sara and Sean Watkins of Nickel Creek, Benmont Tench of Tom Petty and the Heartbreakers, Fiona Apple, and three other exceedingly talented musicians. All of the songs are beautiful interpretations of more obscure songs from some of the biggest artists in history. Standout tracks include Fleetwood Mac's "Steal Your Heart Away", The Grateful Dead's "Brokedown Palace", Dylan's "Going, Going, Gone", Skeeter Davis' "Where I Ought To Be", Robert Earl Keen's "Feeling Good Again", and "Not In Nottingham" from the animated Disney classic "Robin Hood". There is not a bad track on this album! It is brilliant. If you are a fan of bluegrass, traditional country, and folk, mixed with a bluesy rock flavor, then buy this album now...You will be hooked!
A treat for any Nickel Creek or bluegrass/blues fan. Excellent musicianship and lots of "Newgrass" soul!!
A friend talked me into buying tickets to see this group at the Aladdin in Portland, OR next month. I wasn't sure about going. I was familiar with some of the individual members but not the group and was suspect. My friend described their music as "progressive bluegrass." I'm not sure how you would categorize the music…some bluegrass I guess and certainly some shade of country. Whatever you call it, it's a great album with fine musicians and vocals. I'm now very much looking forward to seeing them perform next month.
Brilliant album all the way through. So happy that Fiona Apple is doing what she loves with such wonderful people